Story
The sixth Luna Rossa challenge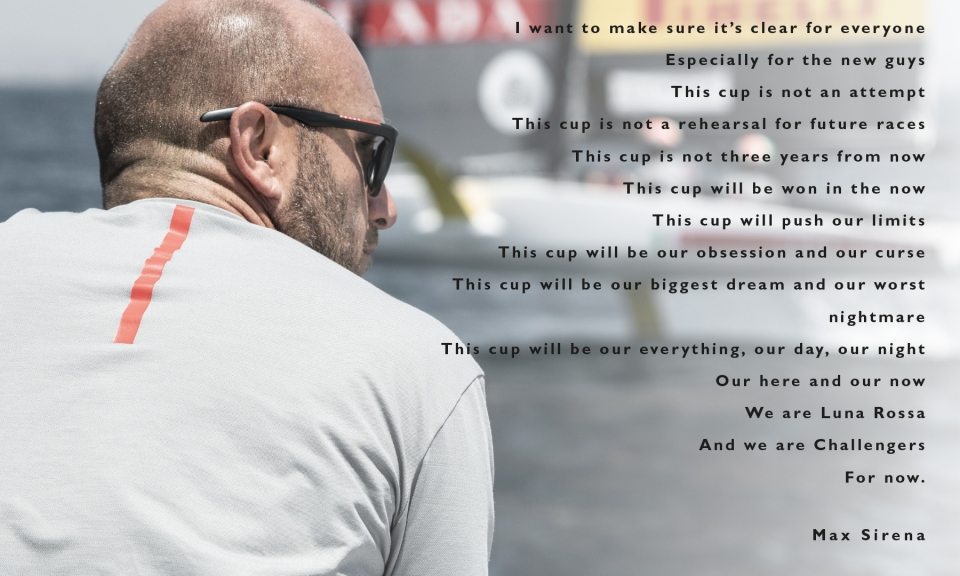 With six editions of the America's Cup behind him, the last on-board Emirates Team New Zealand, the winner of the America's Cup in 2017, Max returns to lead the Luna Rossa Prada Pirelli Team with one goal: bring the Cup to Italy.
What's new in this challenge?
There are some incredibly experienced sailors in our team but also some very young ones. More than anything else, we have decided to approach this Cup differently: transversely. Of course, if you're unable to make a decision, someone else eventually will, but the speed of the boat comes before the ego of any member of the team.
What kind of boat are you working on?
Having the ability to build two boats is a little like serving in a tennis match. With the first, you can dare a little because there's always the second serve if you need to play it safe. Regardless, this new America's Cup is taking us all into unexplored territory and even the most moderate options are still revolutionary.
What is the difference between being on a flying catamaran and a flying boat?
The boat that awaits us will be much more temperamental and edgy than the catamarans we have seen so far.
How did you select the members of the Luna Rossa Prada Pirelli Team?
I personally chose each one of them, considering both their talent but also their character and interpersonal skills.
Once complete, how many members will the team count?
One hundred, perhaps one hundred and five people.
How and when will you decide who will be at the helm of Luna Rossa?
It is a decision I won't be able to take too far down the road because that would mean depriving the future helmsman of valuable hours of training. Probably by the end of 2019 and of course I will evaluate the speed each member can bring to a regatta overall, not just in individual areas. I have not ruled out having one person for the start and another for the remainder of the race.
How do you keep such a large team motivated every day?
It must be crystal clear to everyone that every single activity of each individual person affects the final result. A badly made splice or the wrong post on a social network can have negative consequences on the entire group and also on the final result.
How did the New Generation Project come about?
It comes from the consideration that the average age of good sailors participating in the America's Cup is very high. We are old. No matter how this Cup will go, if you want Luna Rossa to have a fighting chance, the only way to go is to invest in the younger generation. I talked about it with Patrizio Bertelli: we felt we had to start a new cycle for the present but above all for the future. Nine young guys have joined the team (Umberto Molineris, Andrea Tesei, Davide Cannata, Enrico Voltolini, Jacopo Plazzi, Matteo Celon, Nicholas Brezzi, Ruggero Tita, Romano Battisti) and two more will join them shortly. These are very talented figures, especially from a mentality standpoint, which is what matters most. We'll take care of strengthening them as sailors.
What are the expected speeds and averages?
From 35 to 50 knots.
How does the vision of the race change at these speeds?
In traditional regattas you see the gusts coming and you wait for them. At these speeds, you have to pick them up as quickly as possible.
Why does this challenge start from Sardinia and from Cagliari in particular?
Because there is always wind, because Cagliari is a city capable of welcoming the members of a team of one hundred people and their families, because it is logistically perfect and because Sardinia is a wonderful place that I fell in love with since we first came here.
Do you come home satisfied in the evening?
Never.